We are pleased to announce that Red Wire Services is now an accredited Amazon Web Services consulting partner!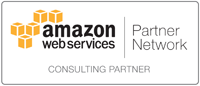 Joining the Amazon Web Services (AWS) Partner Network lets us combine our expertise in systems management and solutions architecture with industry-leading optimization and high-availability services in the cloud. Our role as a consulting partner means that we are equipped to determine the cloud solution which best suits a client's needs, guide the planning process, and execute deployment of any application or service on AWS.
What is Amazon Web Services?
A rapidly growing global platform for applications, services, and content delivery, AWS empowers businesses and end users alike to develop, test, and deliver more quickly and reliably than ever before. Since its launch in 2006, AWS has grown to become the premier cloud services solution for customers ranging from personal blogs or websites and developer project loads all the way up to big names like Netflix and NASA.
This all sounds great, but how can AWS help
you

?

If you have a website, application, development project, or online service of any description, you can benefit from an AWS cloud solution right now.

Whether you're hoping for more cost-effective hosting of your website, quicker load times, or a robust infrastructure to make sure your pages always load from anywhere in the world, moving your website to the cloud with Red Wire will deliver exactly what you need.

If you've got an application in development or an online product ready to launch, we can migrate your project to the cloud with all of the familiar tools and languages you already use, and the added benefits of scalable performance for test or production.

Red Wire is standing by to help you painlessly migrate to the AWS platform. Drop us a line or call today to get started.